Toe Beans (Physical Edition)
Regular price
Sale price
£20.00 GBP
Unit price
per
Sale
Sold out
Are your players asking for a shopping episode? Don't want to start in a Tavern? More of a cat person than a dog person? 
Toe Beans is a homebrew shop module ideal for 5e D&D, perfect for GMs who want to run something light and fun on the fly. Run by Mara Millhale and his group of cats, Toe Beans specialises in magically infused drinks and elixirs.

The written module contains the following information:
A description of the café,
The personalities of the owner and his cat waiters,
A full menu of tea, coffee, milkshakes and desserts,
A roll table for NPC patrons who may be visiting alongside the party,
A magic item counter with 3 homebrew magic items for sale,
2 Quest Hook ideas for players APL 1-5 and 6 - 8,
and stat blocks for 4 modified monsters, 
In this physical edition you will get:
A 24-Page Module Booklet (88x250mm), folded to look like a menu.
x 6 printed menu for player handouts.
x 6 loyalty cards for player handouts.
x 1 paw print sticker sheets for loyalty cards.
x3 of 3 House Blend item cards (9 cards total)
2 sheets of Tea Bag labels (as stickers) in standard branding and Persian Grey.
This work i includes material taken from the System Reference Document 5.1 ("SRD 5.1") by Wizards of the Coast LLC and available at https://dnd.wizards.com/resources/systems-referencedocument.
The SRD 5.1 is licensed under the Creative Commons Attribution 4.0 International License available at https://creativecommons.org/licenses/by/4.0/legalcode.
Shipping & Returns

Shipping calculated at checkout. We use Royal Mail regardless of where you are, please choose the most suitable shipping option for your needs.
Share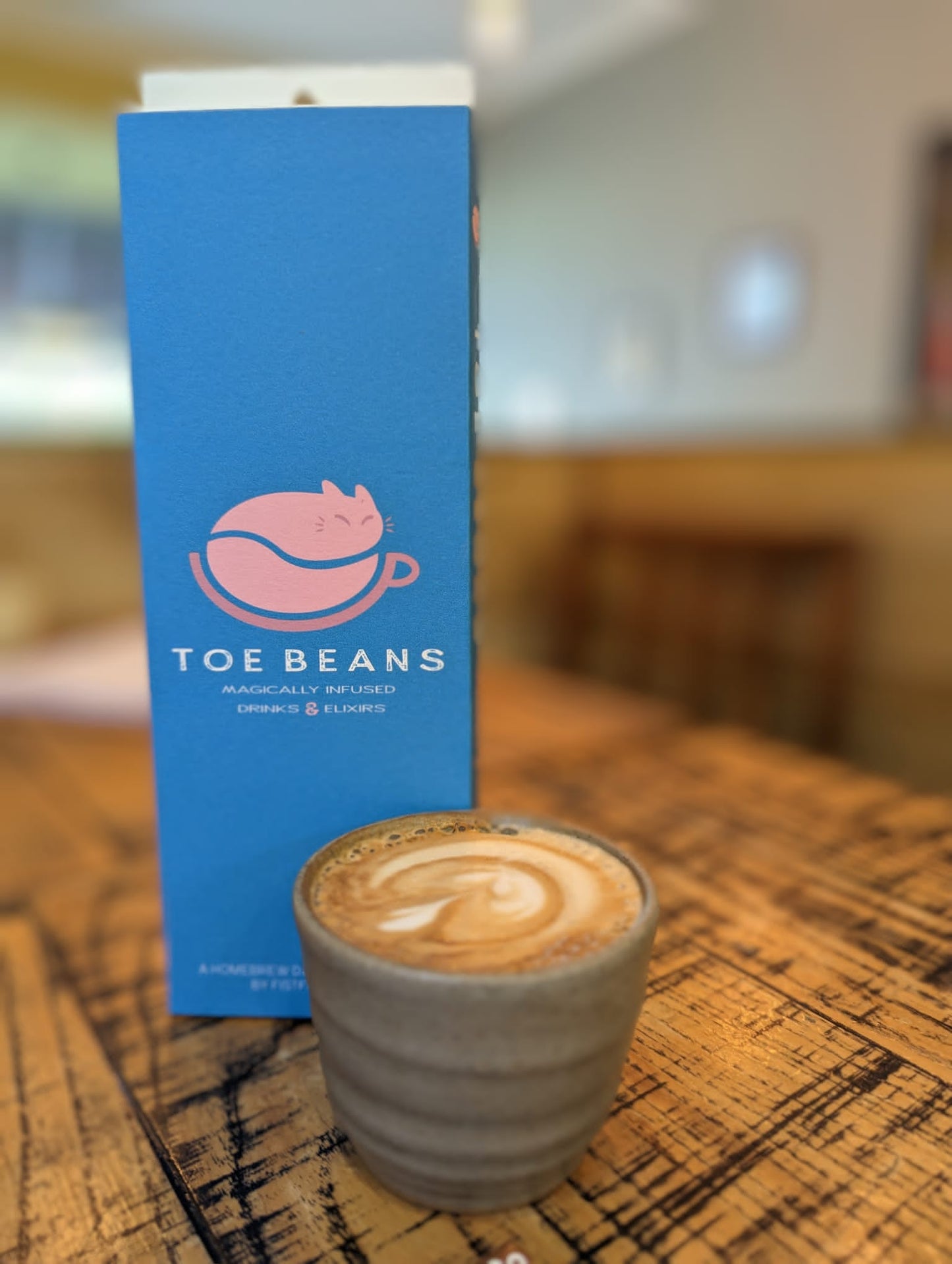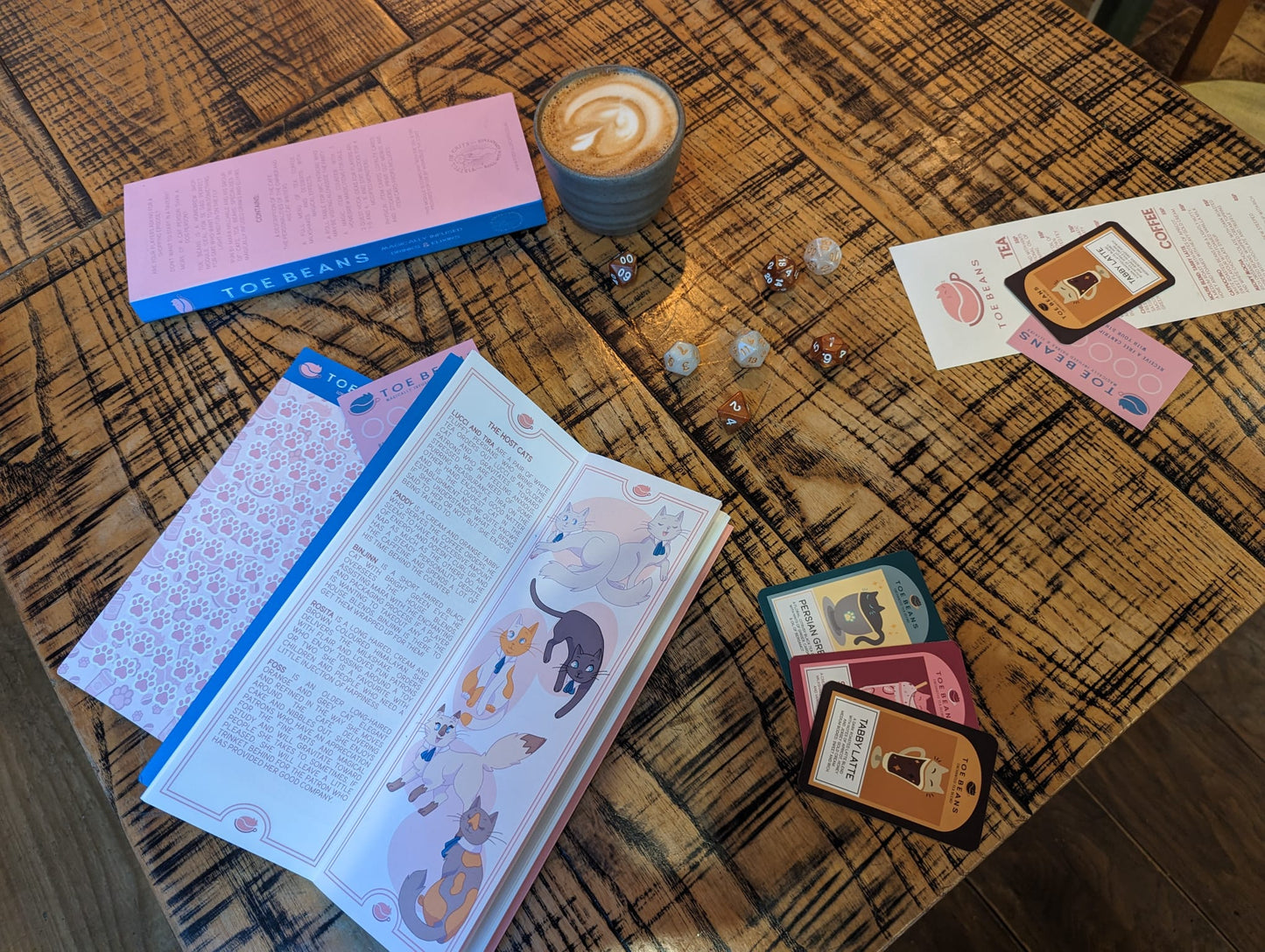 So lovely!
I bought this at the UKGE in Birmingham, and I think its the best thing I bought that weekend. The items are really well printed and so tactile, just the whole quality of the product is lovely. It's so thoughtful and full of tiny details with beautiful artwork.
I don't play D&D, but have adapted things to fit into my current Iron Valley campaign and its working really well!
It's a lovely collection of objects, and I really recommend getting the physical edition ❤️
Aw thank you Katie! We're so happy to hear you were able to adapt it outside of D&D too!! That's very exciting.
Adorable and really great quality
I was attracted to this simply because of the name and as I looked at the contents I realised how incredibly high quality and thoughtful everything is. It makes a lovely change from the boring old "tavern" setting and all the little items that you can place in front of players just make it so immersive! I love this!
Thank you so much Kate! Happy to hear you love it <3
The Best Beans in Town!
My D&D group absolutely love the immersion and quality this module offers. D&D + cats = everyone has a good time. Can't wait for what Fistfulofcrits has in store for the future 🤩
Great fun product!
This is such a great idea and well executed. All the phys reps are super cute, it's an amazing product. Buy it now!