Toe Beans (Digital PDF pack)
Regular price
Sale price
£4.99 GBP
Unit price
per
Sale
Sold out
Are your players asking for a shopping episode? Don't want to start in a Tavern? More of a cat person than a dog person? 

Toe Beans is a homebrew shop module ideal for 5e D&D, perfect for GMs who want to run something light and fun on the fly. Run by Mara Millhale and his group of cats, Toe Beans specialises in magically infused drinks and elixirs.

The written module contains the following information:
A description of the café,
The personalities of the owner and his cat waiters,
A full menu of tea, coffee, milkshakes and desserts,
A roll table for NPC patrons who may be visiting alongside the party,
A magic item counter with 3 homebrew magic items for sale,
2 Quest Hook ideas for players APL 1-5 and 6 - 8,
and stat blocks for 4 modified monsters.
In this digital download you will get:

 An A4, 14-Page Module booklet.

The same booklet, in print ready order for folding together like a menu if you wish to print yourself.
A4 easy print menu for player handouts.
A sheet of printable loyalty cards, for repeat visits.
A sheet of House Blend item cards.
A sheet of tea bag labels in standard branding and Persian Grey.
Toe Beans is licensed under the 0GL 1.0a and is not official D&D material.
Shipping & Returns

Shipping calculated at checkout. We use Royal Mail regardless of where you are, please choose the most suitable shipping option for your needs.
Share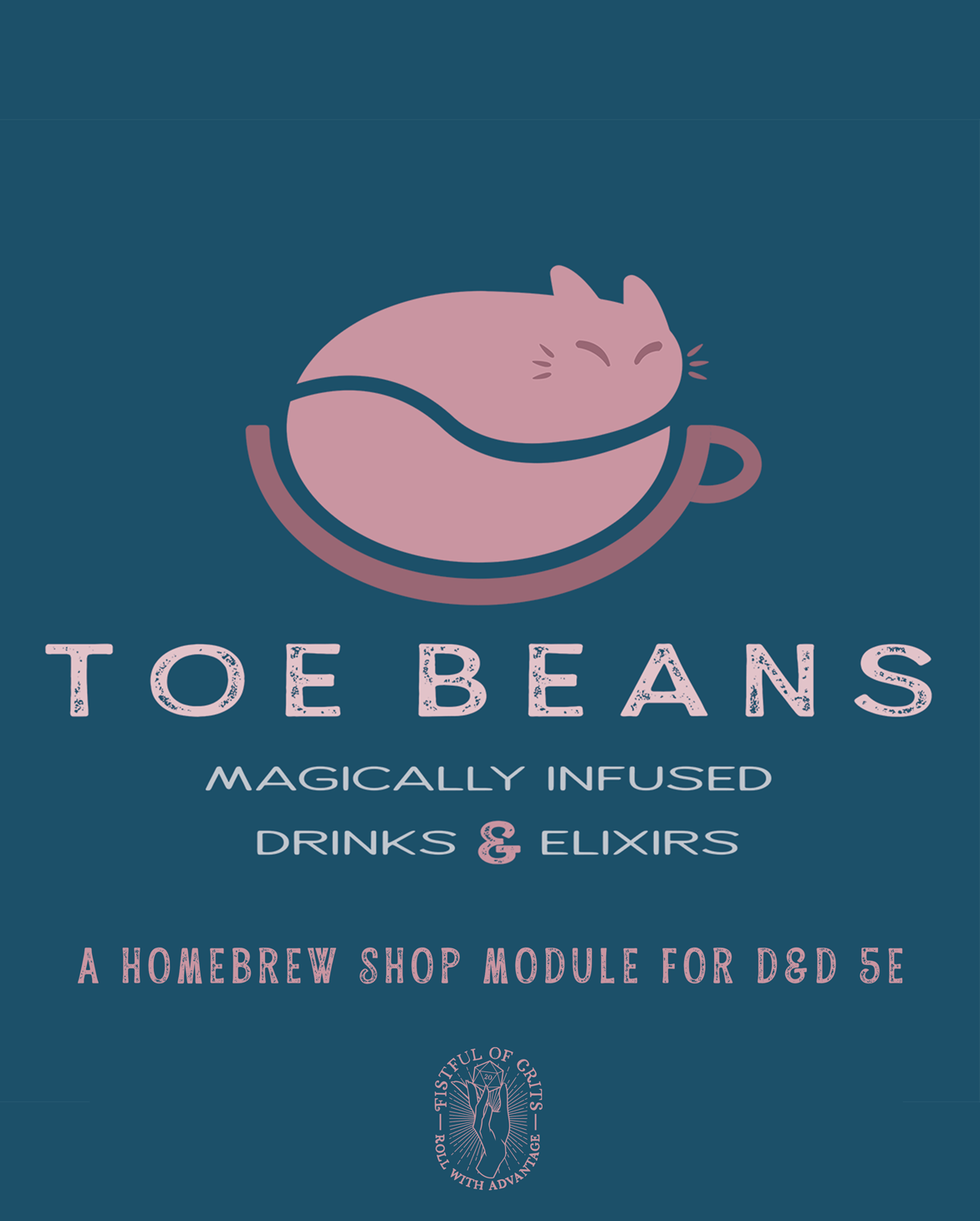 Toe Beans (Digital PDF pack)
Fantastic setting and amazing quality
I love Toe Beans I'm using the setting to kick off a campaign and it has everything you could possibly want and more. The thought and care put into designing this is obvious from the get go and the new update is really appreciated.
10/10 would highly recommend for a super fun and adorable setting for a one shot/shopping SIM or the begining of a campaign.
Wonderfully Whimsical!
A delightful product with a very cute aesthetic! A great palette cleanser for a downtime session